Next Generation Model Competition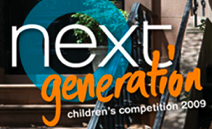 Urban Angels were very proud to be the first kids agency involved with the launch of NEXT GENERATION at the end of last year.
Next linked with facebook to find the top 100 kids in the age group 4-8. The top 100 were voted on by friends and families and they were then invited to an amazing day at Woburn Abbey on December 23rd.
The day included a professional photo shoot, master class with the awesome FLAWLESS dance troop, a trip round the ARK safari park, meeting with Father Christmas and a disco. It was hosted by Gaby Roslin and Sam and Mark.
The top 12 winners (Tanisha, Harvey, Llarney, Evie, Georgia, Ethan, Morgan, Reece, Amy, Varon,Freya) were announced at the end of the day, Freya Howlett was the overall winner of the girls and Reece Pockney was the overall boys winner. All 12 were then given contracts by Urban Angels and we welcome them  to the agency.
All 12 had their first assignment this month in Birmingham a shoot for NEXT to go instores all 12 together alongside the top 12 adult winners it a great day and then following day they took to the catwalk alongside all the professional adult models to strut their stuff. They were all fantastic and a real credit to their mums working so hard and so professional. A real success and we look forward to the next one and to them all having a great year with the agency.